August 20, 2019. Shanghai – The World Artificial Intelligence Conference 2019 (WAIC 2019) kicked off on August 29. With the theme of "Intelligent Connectivity, Infinite Possibilities," the three-day event, which was high-end, international, professional, market-oriented and intelligent, has gathered the most influential scientists and enterprises in the field of artificial intelligence, as well as relevant government officials, who delivered speeches and dialogues around the technological leading edges, industrial trends and hot issues in the field of intelligence.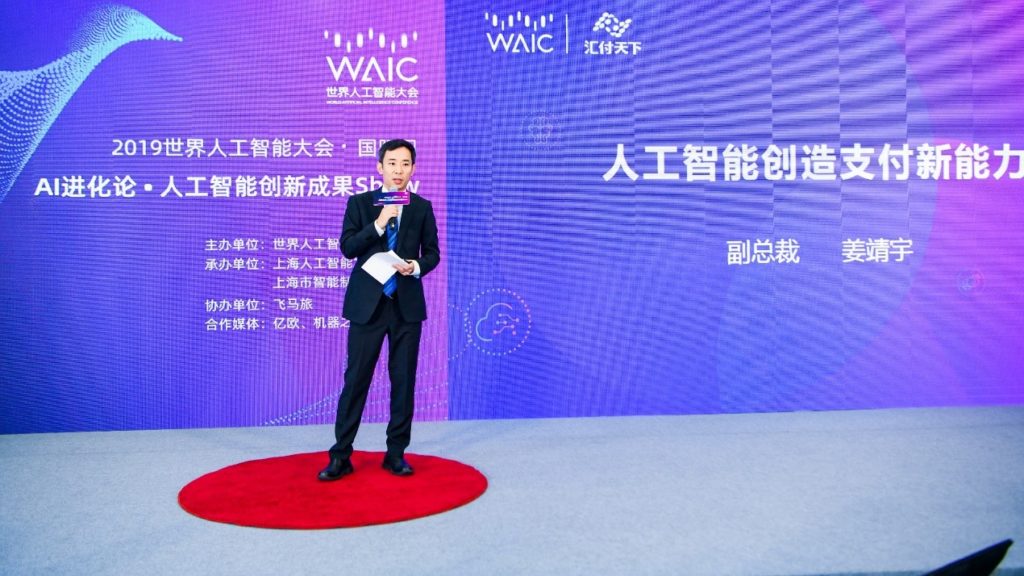 Mr. Jiang Jingyu, Vice President of Huifu Payment
China's leading third-party payment company Huifu Payment was invited to present its digital innovation achievement at WAIC's "Artificial Intelligence Innovation Achievements Show." Huifu's Vice President Jiang Jingyu made an in-depth interpretation of the topic "Artificial Intelligence Creates New Electricity for Payment."
"AI is the new electricity which will bring transformation to many industries," Jiang Jingyu quoted the analogy of Andrew Ng, co-founder of Google Brain, saying that artificial intelligence, as an emerging technology, has become as universal as power energy, and has begun to reshape all industries and exerted a far-reaching impact on business activities. Payment is no exception. Since its establishment in 2006, Huifu has been adhered to the strategy of science and technology and made digital transformation as its future development strategy. The application of artificial intelligence in the payment field has become a strong thrust in the implementation of the company's digital strategy.
It is reported that with its AI-based automatic risk control rules, Huifu is able to conduct a comprehensive analysis of transactions in the dimensions of amount characteristics, channels and sources, frequency characteristics, and trading media. While reducing the interference rate, Huifu's automatic risk control has increased the coverage by 10% compared with the traditional "expert" risk control mode. On the other hand, AI can make feature engineering automatic, shorten the time of model building, automate feature combination, generate high-dimensional depth features, greatly improving the accuracy of the model. It is generally suitable for a variety of scenarios regarding business problems and enables the delivery feature to be interpreted from the perspective of business, ultimately improving the efficiency of data mining.
"Zhihui Guanjia" (Smart Butler) awarded the Innovation Achievement Certificate
As the "ultimate result" of Huifu's AI technology, "Zhihui Guanjia" (Smart Butler) provides one-stop FinTech solutions for merchants in areas such as new retail, education, catering, logistics, healthcare, air-ticketing and tourism. Its open APIs and SDKs can bring developer-friendly experience. "Smart Butler" has a strong account management ability. Its e-wallet account management system can run through stores of multiple levels, helping employees master data. Besides, it can also provide financial value-added services and livelihood services.
Connecting the account system and breaking down the data barriers, "Smart Butler" has become a pillar in Huifu's implementation of its digital strategy and played an important role in the company's strategic layout. In the future, revolving around the digital strategy, Huifu will focus on the development of three core competencies: extra-large-scale transaction processing and operation, multi-scenario account system and e-wallet support, and data-driven intelligent analysis and decision-making. Focusing on small and medium-sized businesses, Huifu will continue to deepen cooperation with leading SaaS providers from various industries through connecting the daily operational activities and adding operational value-added products. While enabling those SaaS providers, Huifu will also work with them to promote the upgrading of business intelligence.
Recommended news