December 3, 2018. Shanghai – As the clearing link of "Acquirers – China UnionPay/NUCC – Alipay/Tenpay – China UnionPay/NUCC – Card issuers" has been confirmed by regulatory bodies in early 2018, compliance of the transfer mode between payment institutions through China UnionPay or NUCC was also recognized. However, the "red ocean" of the integration payment business where the competition is becoming increasingly acrimonious, is turning into a new "blue ocean" full of chances and opportunities for third-party payment players.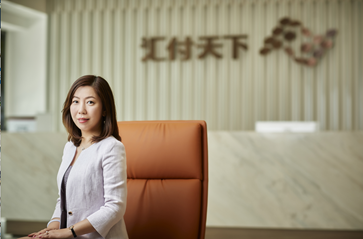 Ms. MU Haijie, president of Huifu Payment, recently said that the heavily digitized new retail business keeps developing rapidly, and on this basis, the emergence of integrated solutions may become a key area to look at when it comes to the development of the industry in the next few years. "SaaS providers who operate in vertical industries and for micro and small businesses process integrated payment transactions, they are our partners by nature," said Mu.
Mu also revealed that, in addition to cooperation with SaaS providers on business and operation level, Huifu will also exert its power at the capital level. "We hope to add capital strength to their R&D efforts to achieve a better strategic synergy and further empower the SaaS industry."
Blue Sea of Integration Payment within the New Retail Ecology
With the growth and maturity of QR code ecology and the fan economy catalyzed by the WeChat ecology around 2015, the digital transformation of the new retail has become an unstoppable trend.
Huifu's integration payment business also started in 2015, and it focuses on micro and small businesses.
However, in fact, the demands of micro and small businesses are not as simple as expected. "Even in a small milk tea shop or juice bar on the street, there are multiple rigid demands for payment, customer acquisition, marketing and operational management behind a simple QR code for payment," said Mu. "Micro and small businesses may not have such capabilities themselves, but professional SaaS providers can help meet these needs through systematic means."
"SaaS providers are specialized in serving vertical industries such as catering, healthcare, beauty and daily caring, or micro and small businesses. They are close to the real-life consumption scenarios, they are familiar with their own businesses, products and client clusters. However, they lack experience in payment, which is just the advantage of Huifu," said MU, "Huifu can integrate financial services like account management systems, payment transaction channels, data-based value-added services and financing and wealth management services, to empower SaaS providers as they can better service their clients."
The new four-party cooperation mode will become part of Huifu's strategy, revealed Mu.
What is the future finance like?
In Mu's view, the stronger the data analysis and data modeling capabilities, the higher the value of a company will be in the future. Thus, Huifu attaches great importance to technology and scenarios.
"Future finance may exist in multiple formats, and new system structures can be derived from services like consumption staging, supply chain financing, credit business and wealth management. In fact, these financial services are now provided by banks. Some banks have their own licenses and demands for operating such services. But for some, due to the lack of scenario support in data acquisition and the fragmented synergy between departments and branches, there are defects in the integrity and continuity of the data, which affects their ability of data modeling, "said Mu. She continued that it is not easy to find an effective scenario for both credit and wealth management businesses, and the advantages of payment in terms of connecting scenarios are obvious. "First of all, the payment-scenario connection is very natural, and after the connection, data mined have their own scenario features. After being structured using technical means, the data can be used to form different models such as user portraits, which can be used for accurately matching the demands in various scenarios, marketing and credit, for instance."
Mu said that the transaction process involves multiple steps like payment channels, transaction processing, settlement and account design, each of which has very high requirements for risk control, operation and compliance. "Therefore, Huifu has spared no efforts to invest in R&D in recent years."
Through continuous inputs in R&D, Huifu has greatly enhanced the intelligence level of its service processes. "Today, more than 80% of our customer services are done by robots, and merchants may open accounts through face recognition, 7/24. Transaction processing has also been automated, and the data derived from payment business can in return support our risk control. We will compare the transaction characteristics with the actual transaction scenarios and achieve real-time risk identification and interception solely by technical means."
In the future, competition will be synonymous to a race between industry players' in technology capabilities and their sophisticated operation level. "Huifu will connect more scenarios through cooperation with SaaS providers while further consolidating the company's data analysis and processing capabilities to incubate various financial services and better service SaaS partners and their clients," said Ms. Mu.
Recommended news