September 19, 2018. Hong Kong – Huifu Limited (01806.HK, hereinafter referred to shortly as "Huifu"), a leading independent third-party payment service provider in China, has officially signed cooperation agreement with global payment giant First Data Corporation (NYSE: FDC, hereinafter referred to shortly as "First Data"). Both companies will join forces to deepen cooperation at the strategic level in terms of business, marketing, fintech and more.
Zhou Ye, Chairman and CEO of Huifu, says China's payment and fintech industry has seen in recent years, a transformation from being a humble "imitator" to what is now internationally recognized as a global "leader" in the sector, and Huifu, a company deeply rooted in China's domestic payment market for years, has accumulated rich experience in providing services to micro and small merchants and industrial clients. Through this cooperation, Huifu will provide First Data with payment and fintech solutions that are most suited for the Chinese e-commerce market. Zhou, optimistic about this cooperation, says, by combining Huifu's local advantages with First Data's rich global resources, the cooperation is to enable both companies to quicken international merchants' pace entering into China's huge e-commerce market.
Ivo Distelbrink, Executive Vice President (Asia Pacific) of First Data, believes the key to promoting cross-border consumption and trade is whether you can provide a better payment experience during the shopping process. "We are excited about the 'China opportunities' that this partnership with Huifu has to offer to our global merchants; meanwhile, we will benefit from this cooperation in exploring more potential clients in the Chinese market," Distelbrink says, "as we continue to expand across the Asia-Pacific region, we will extend coverage to new markets and collaborate with carefully selected partners to deliver diversified solutions to our clients to help them meet the ever-changing needs of their consumers."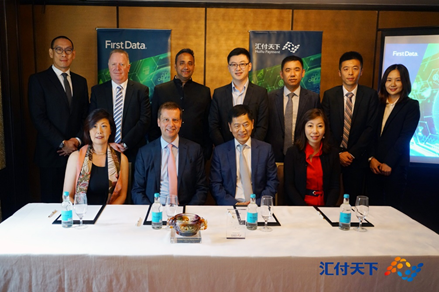 As one of the top global third-party payment service providers, First Data provides services to over 6 million international merchants and financial institutions. Its mobile payment, cross-border e-commerce and pre-payment solutions, as well as innovations in payment and settlement, anti-fraud and identity certification, can help companies adjust to today's globalized and digitized business environment quickly and improve their competitiveness.
First Data works with a large pool of renowned international merchants – who are likely to encounter difficulties in localization when exploring the Chinese market. As one of the first payment companies to get the cross-border payment license, Huifu can offer international payment players like First Data with one-stop cross-border payment services as an effort to help the foreign merchants to build presence in the Chinese market. It is reported that Huifu will assist the international merchants of First Data on RMB acquiring, clearing and settlement, daily trade monitoring, technical support and so on, to gradually build up a one-stop payment service system for international merchants – the system will also integrate services such as customs declaration and international logistics support.
Through this cooperation, both sides will join forces, using their own advantages to help merchants improve operation efficiency and create a brighter future together.
About Huifu Limited
Huifu Limited is a leading Chinese independent payment company. Its major business includes payment and fintech services. The payment business provides various services for millions of micro and small merchants and companies in specific vertical industries. Huifu's payment solutions allow merchants to offer their customers with seamless, convenient and safe payment methods, whether in physical stores, through online channels or on mobile devices. Building on the company's strong payment capability, Huifu also provides fintech enabling services to Internet finance institutions and commercial banks to empower clients in terms of information visibility, operation efficiency and data security, and enable them to offer more flexibility and convenience when serving their customers. The fintech business includes SaaS (such as account management) and other data-driven value-added services. The company has realized its initial public offering on the main board of HKEX on June 15, 2018 (01806.HK). Visit https://www.huifu.com/ for more info.
Recommended news